In February 2020,
the coronavirus pandemic came along,
cutting off almost all flights around the world.
Shone planned to depart to Dubai in February
to provide technical support for the
LED sensor bricks project in Expo 2020 Dubai.
However, this itinerary was not yet achieved
due to the lack of international flights.
Since Shone was not on-site to support our local partners,
they had to install mass areas of LED sensor bricks for the first time.
Although they have Shone's installation norms,
can these 8560 pcs of LED sensor bricks
perform satisfying effects on the venue plaza
while meeting the strict requirements of the owner?
The major concern for Shone was this,
during the first half of 2020.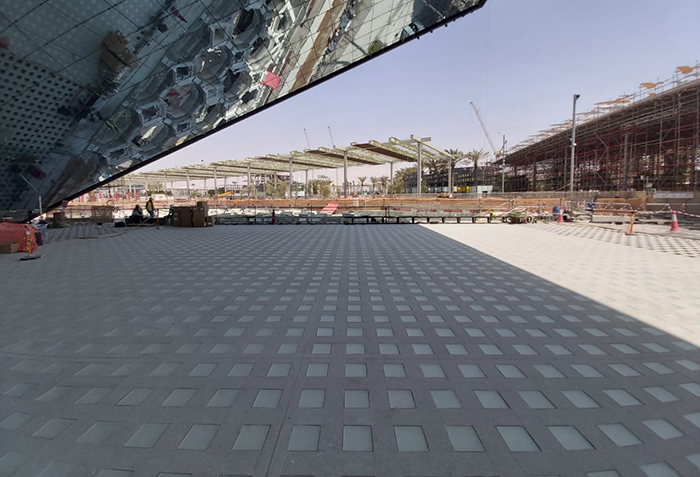 ↑ ↑ ↑
Surprisingly, on just last week,
Shone's team received on-site photos delightfully.
These 8560 pcs of LED sensor brick are perfectly presented
through professional installation of our partners,
with the strict product standards and installation norms:
Clean finish with no silicone visible
Assembling gap between recessed box and marble is ≤1mm
Assembling gap between the recessed box and LED brick is ≤1mm
Each LED brick is lower than the recessed box by 0.2mm
Thickness of stainless-steel recessed box is 2mm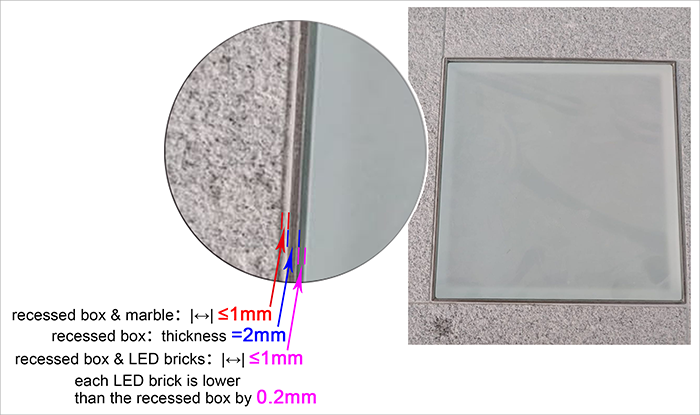 Shone's partners are professional, responsible,
and dedicated to strictly comply with Shone's installation norms,
so that the LED bricks can blend smoothly into the plaza environment,
which enhances the overall project effect.
______________________________
Together,
Shone's refined product standards
and local partner's professional installation ability
became a great match.
At this point,
the hanging hearts of Shone's team gradually calmed down.
Expo 2020 Dubai's LED brick project enabled
Shone's LED sensor bricks to appear on a large
scale on the stage of world-class projects once again.

△ ?????(Left picture)High standards of product design. For example, the dimension of LED sensor brick's recessed box
is strictly defined, with tolerance range less than 0.2mm.
△ (Right picture)For these 8560 LED bricks, the size of each brick and the gap between the brick and the recessed
box are almost consistent, which can withstand the customer's stringent acceptance standards.
Since Shone made the first LED brick in 2003,
we have accumulated 17-year experience in
research and development,
with 2000+ project collaboration experiences worldwide,
in LED sensor bricks.
Now, LED brick's standards and installation norms
have been made by Shone for world-class projects.

△ Shone's LED brick's installation instructions (Partial)
In the coming days,
both teams are still responsible for on-site's inspection
and commissioning, confirmation, and other tasks.
To fulfil customer's expectations,
both teams are still continuing to work closely
with the highest standards.
Until today,
Shone's team are still enthusiastically searching
for airlines to Dubai.
When will it be possible?
What other stories will happen for lighting up
Expo 2020 Dubai?
Let's wait and see!
---